Hot Dip Galvanized Mild Steel Grate
1. Brief introduction of Steel Grating:
The steel Grating is also called steel grating, grating plate, steel grid plate etc. The steel Grating is to use steel according to certain spacing and cross arrangement, and welding for steel products with square lattice in the middle. The steel grating is a new type of building materials products, manufacturing technology from abroad. The steel grating is mainly used to do ditch cover, steel platform plate, steel ladder step plate. The bar steel grille plate commonly used by twisted steel, twisted steel specifications for 6mm, 8mm, 10mm and so on. The steel grating can be welded into different shapes according to drawings and specifications, in order to apply to different places such as open. Circular common, triangle equilateral trapezoid, cutting Angle and arc shape, so that the steel grid plate called special-shaped steel grating in our industry. The steel grid plate with carbon steel, carbon steel is generally Q235, in special industries Such as boiler rectification steel grid plate will use Q345 material. The steel grid plate surface is galvanized, can prevent oxidation. Also can be made of stainless steel. It is called Stainless steel grid plate when welded with Stainless Steel Flat Bar, stainless steel grid plate has the function with ventilation, lighting, cooling, skid proof, explosion-proof performance.
2. common specifications of steel grating:
1) longitudinal strip (Flat Bar) distance: conventional 30,40,60 (mm); and non-standard spacing: 25,33,35/50 (mm) and so on.
2) horizontal stripe (Twist steel): normal spacing 50,100 (mm); and non - standard spacing: 38,76 (mm).
3) height 20~500 (mm)
4) thickness: 3-15 (mm)
There is various of the steel grid plate. A variety of occasions, environment, bearing requirements of the steel grid plate has different specifications, it is just these different plate spacing, height and thickness, the diameter of the connecting rod composed various steel grille plate specifications.
Below will be the introduction of different steel grating.. according to the marked graph can know all parts of different steel grating is what it looks like.
3. Standard Specification for steel grid plate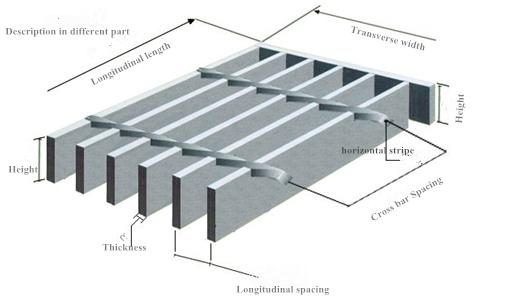 3. Classification of steel grid plate
1) According to the welding method can be divided into: welding steel grid plate (Figure 1), inserted a steel grid plate (Figure 2), Jack steel grating (Figure 3); pressure welding steel grid plate which needs large production pressure welding, pressure welding machine and verify that you have the strength of steel grid plate factory.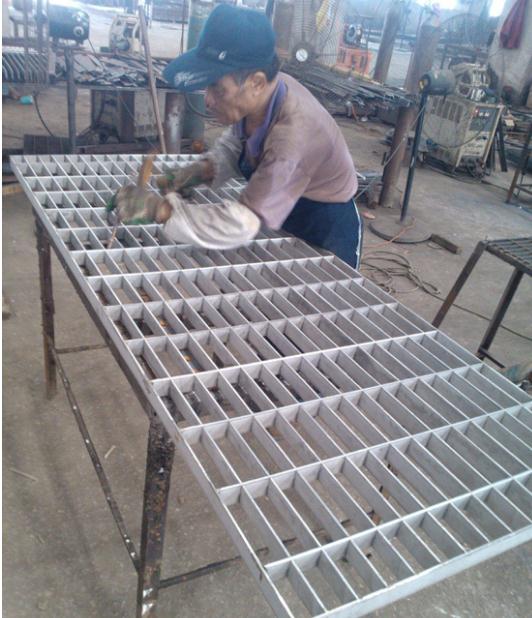 2) According to the load of flat surface shape, can be divided into: flat steel grating (Figure 1), tooth type steel grating (Figure 2) and
"I" - shaped steel plate (Figure 3).
flat steel grating (Figure 1):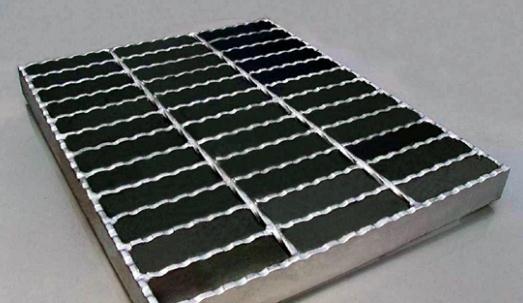 4. Steel grid plate according to the material is divided into: stainless steel grid plate ( Figure 1) and carbon steel grating plate. Stainless steel grid plate material usually has 304L, 316, carbon steel material for Q235, Q345A and so on.
5. Application of steel grid plate:
The steel grid plate is widely used in petroleum chemical industry, electric power, tap water, sewage treatment, port construction, modification, shipbuilding, self-propelled parking lot, municipal engineering, environmental engineering and other fields of the platform, walkway, trestle bridge, ditch cover, manhole covers, ladders, fence. Application of steel grille plate is very broad, Ladder step plate, cable trench cover, aluminum plate, ditch cover, the new building materials, steel grid plate is modernization plays an increasingly important role in the process of building. Above is a brief introduction of Steel grid plate for you. Please be free to consulte with us if there is any unclear for which kind of specification you can use in the actual situation. We can help you find the right steel grid plate specifications as per our rich production experiences.
We also produce
Chain Link Fence, Welded Mesh, Cattle Fence, Razor Barbed Wire, Corner Bead
, any inquiry, tell me.
Looking for ideal Mild Steel Grate Manufacturer & supplier ? We have a wide selection at great prices to help you get creative. All the Galvanized Mild Steel Grate are quality guaranteed. We are China Origin Factory of Mild Steel Grate Mesh. If you have any question, please feel free to contact us.
Product Categories : Welded Mesh > Steel Grating